All our premium cork-backed coasters and placemats, and superb stonewashed French linen napkins are designed to be mixed, matched and layered to achieve your hygge table vision.
We've chosen one of our favourites, Fab Fir, to show just how versatile a single design can be. Follow our style guides, or get creative with your own chic settings! Of course any of our designs can be styled in these ways too.
1. Citrus Summer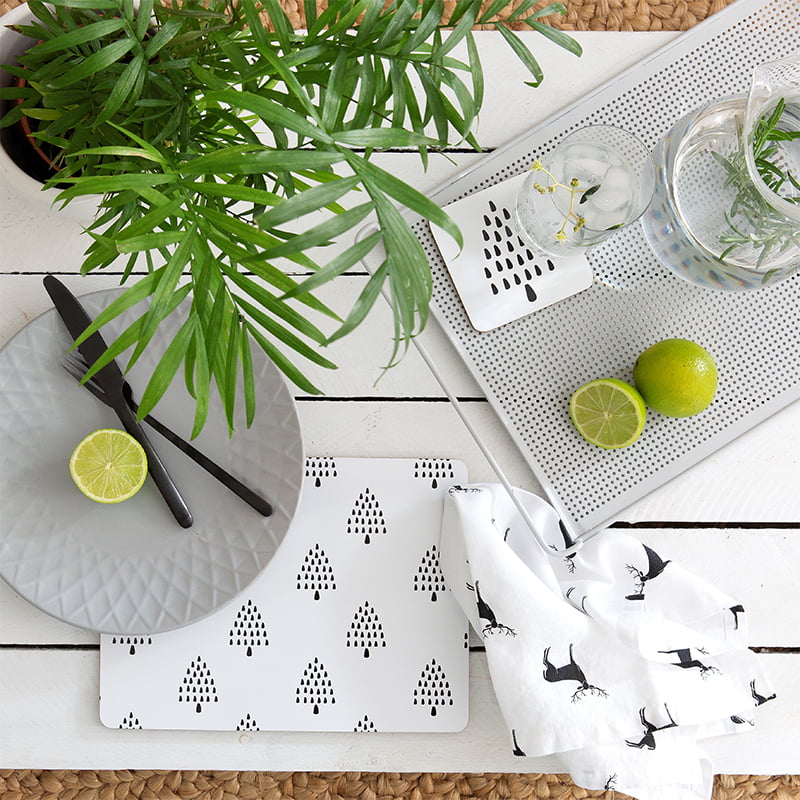 Fab Fir isn't just for cosy wintery days. Go tropical with vibrant greenery and fresh summer produce. Keep the setting minimal and let a delicious barbecue be the hero.
Style by matching Fab Fir cork placemats with Fab Fir cork coasters. Layer with a napkin (necessary for sticky chicken wing fingers!) We've used Sassy Deer French stonewashed linen napkin in black to keep the monochrome mood playful. Matt black cutlery ties the simple scheme together.
Enhance a monotoned palette with on-trend textural elements. A perforated tray is perfect for outdoor dining and can be loaded up with small self-serve snack bowls. Use the Fab Fir placemat under hot barbecue dishes. All our cork products are heat resistant up to 90 degrees!
2. Peach Bliss
Golden tones and dusty blush pinks pair beautifully with the black on white pattern of Fab Fir. Keep the setting relaxed and casual, just as your inner French cool-girl would have it. Sunday's should start with the smell of warm cinnamon and freshly baked pastries. A delicious hygge scent will linger tantalizingly throughout the day.
This blissful setting suits any occasion, day or night. In the evening, salty olive bread and bitter Campari should be served with abundance. Brushed metallic serving ware can be matched with faceted glass for an understated glam vibe. Transform from casual to classic with metallic napkin rings and votives for twinkling tea-light candles.
3. Rustic Charm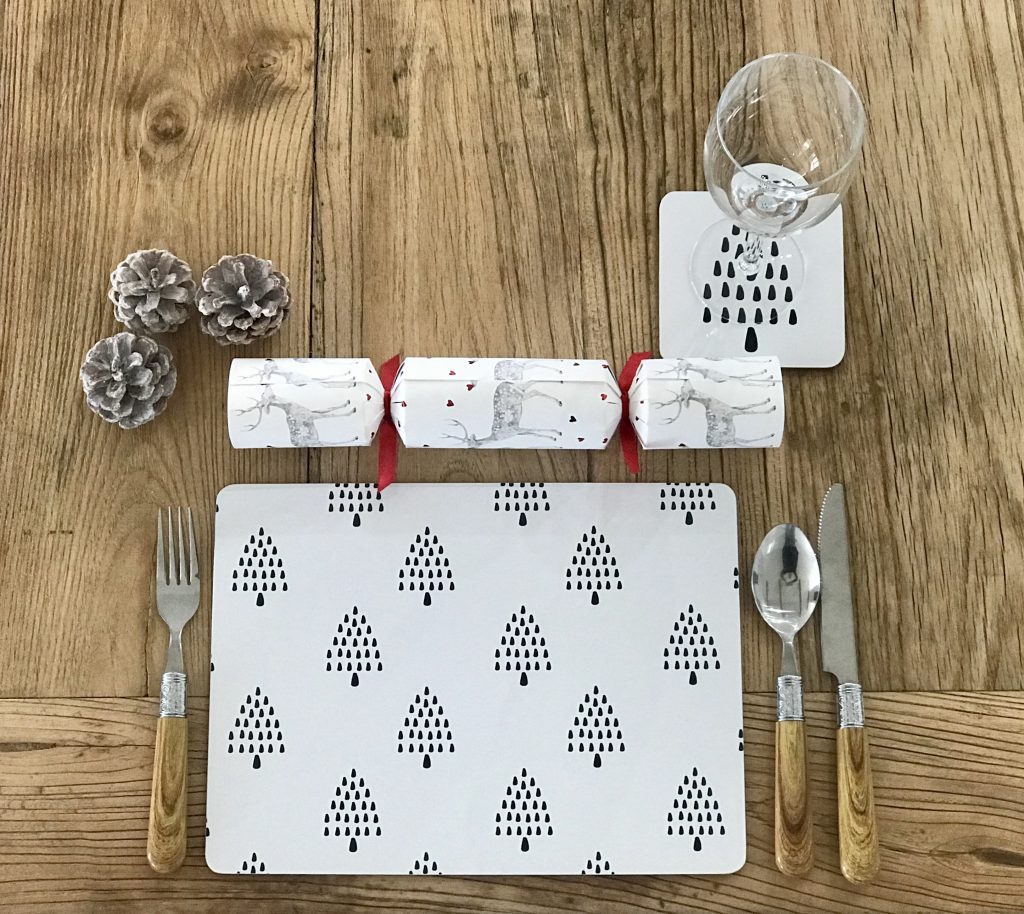 Our December calendar is always overflowing with dinner parties, long weekend lunches and the occasional impromptu visit. We wouldn't want it any other way! Show your crazy tribe some love with a place at the table by styling a simple rustic setting that takes mere minutes to set up.
—
Simplicity is achieved by a matching placemat and coaster set, and Fab Fir easily compliments the timber-handled cutlery. Keep the table top bare for a casual, hygge vibe. Buying crackers in bulk at the beginning of the month is such a fun way to create a place card. You can write each guests name on the cracker (we recommend place cards for large table settings).
The centre piece is going to be all the delicious food, so keep to the rustic theme with loose pine cones, or small ornamental timber decorations that can be layered amongst the platters.